news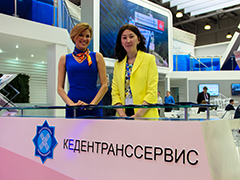 Kedentransservice is holding talks on the development of transport logistics at the exhibition "TransRussia 2016"
19.04.2016
An international exhibition of transport and logistics services and technologies is traditionally being held in Moscow.
It is not the first year that "Kedentransservice" JSC participates in the "TransRussia". As in previous years, the company is represented in the group of "TransContainer" PJSC as a separate Kazakh-Russian joint venture.
In the course of the company's participation in the exhibition it is scheduled to meet and negotiate with "Lithuanian Railways" JSC, "Russian Troika" CJSC, BTLTS, Nurminen Logistics Ltd., "OTLK" OJSC, "Transfin-M" PJSC and "Reyltranskholding" LLP.
In addition to "Kedentransservice" JSC the Kazakhstan sector of transport and logistics companies was also represented by "NC "Kazakhstan Temir Zholy" JSC, "Kaztemirtrans" JSC, "Kaztransservice" JSC, KTZ Express JSC.
In 2016 the events were divided into the following sections:
Transport services: transportation of cars, air, railway and water transport; mixed and intermodal transportation; courier and express delivery.
Related services: freight forwarding; customs services; storage services.
Logistic services: distribution system, storage and transportation; warehouses and centers of cargo handling.
Transport infrastructure: ports and freight terminals; railways.
Technical means: rolling stock and components, containers; cargo handling and storage equipment; commercial vehicles.
Financial services: insurance; transport equipment leasing; investment programs.
Information Technology: solutions for industry-specific business processes automation; systems of management of transport and warehouse logistics; navigation and monitoring systems.
As planned by the organizers each of the sections should show the possibilities to increase the efficiency in the work of each carrier presented at the exhibition.