news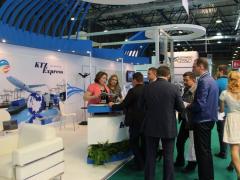 The representatives of "Kedentransservice" JSC and "Network transport group" LLC have signed an agreement on freight forwarding in the exhibition "Transit Kazakhstan" 2013
25.09.2013
The opening of the Transit-Kazakhstan 2013 exhibition was held with the participation of Kanat Alpysbayev, Vice-President of JSC «NC «KTZ» for Logistics. In his speech at the opening ceremony, he stressed that «the Transit-Kazakhstan 2013 exhibition is an annual business platform for representatives of the transport industry, where the most pressing problems and prospects for development, new forms of interaction between different types of transport, promotion of logistics issues in the global market of transport and logistics services are discussed. On behalf of the Head of State, Nursultan Nazarbayev, a purposeful activity has been launched to revive the Silk Road, where JSC » NC » KTZ » is assigned the role of an integrator of transport services with a link to a single service. On the basis of JSC «NC «KTZ», a multimodal company was created, aimed at increasing the export and transit potential of Kazakhstan, developing contract logistics, and developing new routes for cargo transportation in the Asia-Europe connection.» Concluding his speech, K. Alpysbayev said that the interim results of all logistics and transit projects will be summed up in November 2013 in Astana at the New Silk Road Forum.
Immediately after the opening of the exhibition «Transit-Kazakhstan», representatives of the group of companies of JSC «NC» KTZ » began work on the presentation of transport and logistics services. During the two days of the exhibition, about 30 meetings were held with major players in the transport services market, as well as with representatives of foreign railway administrations.
On the first day of the exhibition, Kanat Alpysbayev signed an Agreement of Intent with the Government of the Chelyabinsk Region of the Russian Federation, in addition, the leadership of the railway administration of Kazakhstan took part in the anniversary event of the Latvian Railways «10 years of the Baltika-Transit train».
It should be emphasized that Kazakh companies form the basis of the exhibition «Transit-Kazakhstan 2013» and occupy 51% of the exposition. The railway transport infrastructure is also represented by national operators of Ukraine, Lithuania, Latvia and Russia.
The maritime transport section at the exhibition is represented by the Aktau, Ventspils, Liepaja and Riga commercial ports.