news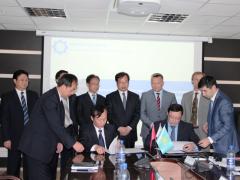 The Memorandum is signed between "Kedentransservice" JSC and International logistics company "Wuhan Han Ou"A memorandum was signed between JSC «Kedentransservice», JSC «KTZ Express», subsidiaries of JSC » NC » KTZ «and the International Logistics Company» Wuhan Han Ou » of Wuhan (Hubei Province, China) on cooperation on the route container train «HanXinOu» Wuhan — Kazakhstan — Europe. The signing took place during the visit of the Secretary of the Party Committee of the Hubei Province, Li Hong Zhong, to Astana. During his meeting with the President of JSC «NC «KTZ» Askar Mamin, the issues of development of international cooperation between the province of Hubei and Kazakhstan temir Zholy, increasing transit through Kazakhstan were discussed. The Memorandum signed on the same day covers the delegation of authority for the passage of the Wuhan — Kazakhstan — Europe train to the logistics operators of JSC «Kedentransservice» and JSC «KTZ Express», the service of this route on the principle of» one window » with a noticeable reduction in
03.07.2014
A memorandum was signed between JSC «Kedentransservice», JSC «KTZ Express», subsidiaries of JSC » NC » KTZ «and the International Logistics Company» Wuhan Han Ou » of Wuhan (Hubei Province, China) on cooperation on the route container train «HanXinOu» Wuhan — Kazakhstan — Europe.
The signing took place during the visit of the Secretary of the Party Committee of the Hubei Province, Li Hong Zhong, to Astana. During his meeting with the President of JSC «NC «KTZ» Askar Mamin, the issues of development of international cooperation between the province of Hubei and Kazakhstan temir Zholy, increasing transit through Kazakhstan were discussed.
The Memorandum signed on the same day covers the delegation of authority for the passage of the Wuhan — Kazakhstan — Europe train to the logistics operators of JSC «Kedentransservice» and JSC «KTZ Express», the service of this route on the principle of» one window » with a noticeable reduction in the time of the train on the way through the territory of Kazakhstan.
— The growth rate of transit traffic from China to Europe through Kazakhstan indicates a huge potential. In 2013, their increase was 84% compared to 2012. For 5 months of this year, the growth rate reached 276% — » A. Mamin said at the signing ceremony.
Hubei Province is an economic enclave of central China, one of the largest logistics hubs in the PRC with rail, road, air and water components. Hubei and its capital city, Wuhan, serve the transportation needs of nine other adjacent provinces in China, which produce almost the entire range of industrial products.
«All these provinces need to use the Wuhan — Kazakhstan — Europe route to transport goods abroad,» Lee Hong Jong assured. » In 2013, the trade turnover between Hubei and Kazakhstan amounted to 54 million US dollars. I am sure that with the launch of the new project, we will reach the figure of $ 500 million.
After the signing of the Memorandum, a representative office of the Wuhan — Kazakhstan — Europe international logistics project in Central Asia was opened.