news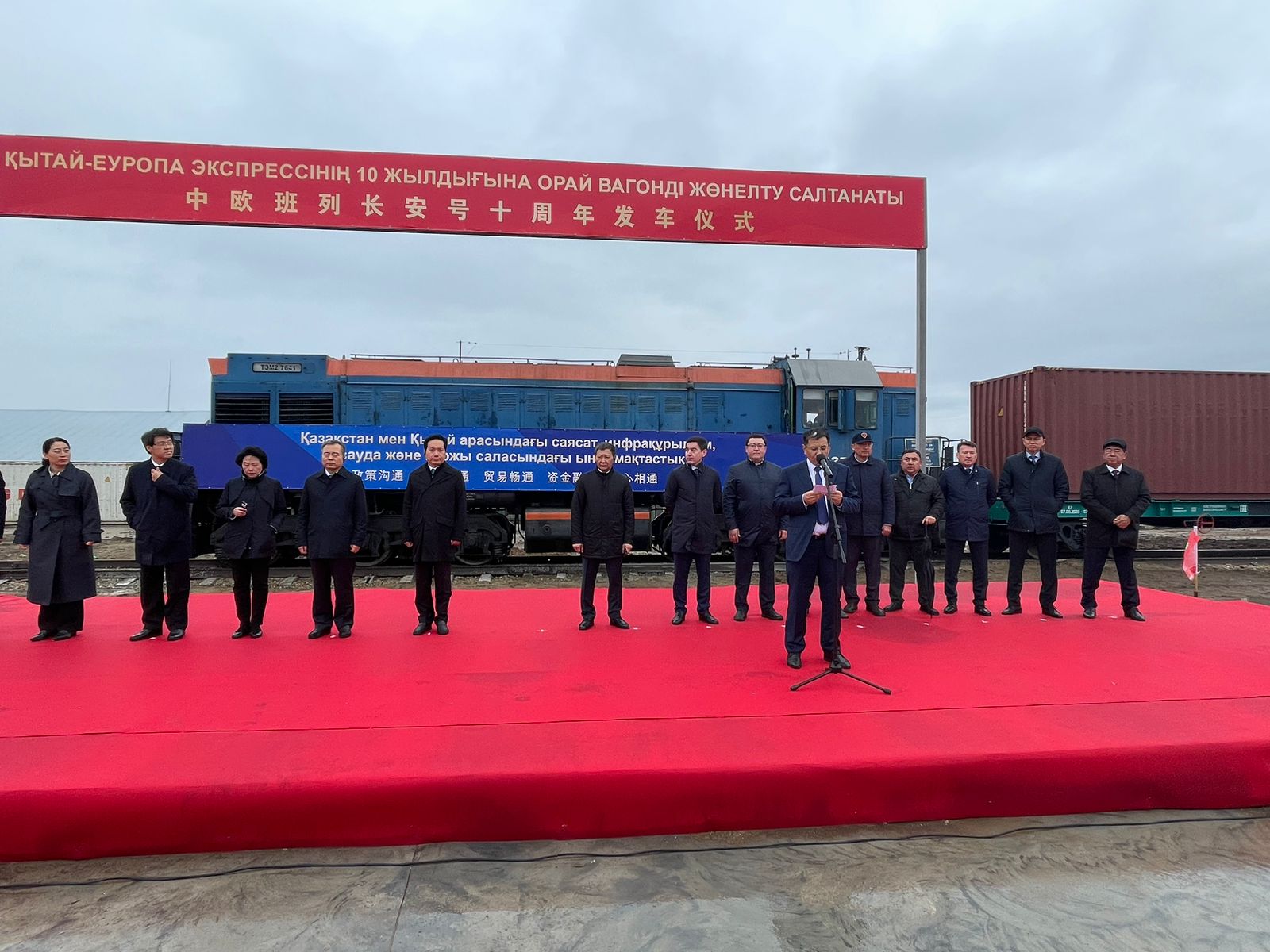 THE FIRST CONTAINER TRAIN UNDER THE AUSPICES OF THE JOINT VENTURE «CHINA-KAZAKHSTAN TRADE AND LOGISTICS COMPANY» LTD. 07.09.2023
07.09.2023
Execution of instructions of the Head of the State on transformation of
JSC «NC «Kazakhstan Temir Zholy» into a transport and logistics company and further integration into the international transport network is already moving to the stage of practical implementation.
Within the framework of agreements reached by the Heads of State of Kazakhstan and China in May of this year, work continues on the development of foreign trade relations and assistance to producers of export products to markets with the organization of transportation of socially important cargoes.
These measures contribute to the support of the initiative «One Belt — One Road» announced by the Head of China Xi Jingping 10 years ago in Astana.
The result of cooperation was sending of the first container train from Oktyabr station (Taiynshinsky district of North Kazakhstan region) to Xi'an city (PRC) with 1300 tons of wheat on September 6 this year. Organization of sending was carried out under the auspices of the joint venture LLC «China-Kazakhstan Trade and Logistics Company» created by JSC «NC «KTZh» represented by JSC «Kedentransservice» in cooperation with the International Dry Port of Xi'an.
Taking into account that Northern Kazakhstan is one of the leaders in the production of wheat, milling products and the largest exporter of grain in the country, during the year grain transportation to China increased 4 times and exceeded 1.1 million tons.
Organizers of the new route container train JSC «Kedentranservice» and the International dry port of Xi'an intend not only to provide shipments of agricultural products on a regular basis, but also to expand the geography of shipments at the expense of other regions of Kazakhstan and to carry out back-loading of trains demanded imports from China, expanding the range of transported goods.
Active participation of «China-Kazakhstan Trade and Logistics Company» LLC with the launch of the first container train with grain will give an additional impetus to the expansion of cooperation in the agricultural and trade and transport sectors of our countries and in the future will allow to use the capacity of the cargo terminal in Xi'an, which is being built by the joint venture.