news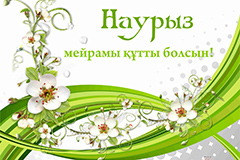 On the eve of Nauryz Meiramy President of "Kedentransservice" JSC Alimzhan Abdirov congratulated the Company employees on the holiday
18.03.2017
"From time immemorial Nauryz is the day of the spring equinox. It is a symbol of the renewal of nature, it represents a continuous connection of times and generations, reflects the greatness of the culture and traditions of the people, strengthens peace and harmony. I sincerely congratulate You on this wonderful holiday! Let Nauryz Meiramy bring You and Your loved ones health, happiness and prosperity!", said A. Abdirov.
Within the framework of the celebration of Nauryz Meiramy employees of the Company organized cultural events and participation in competitions.
Festive events on the occasion of Nauryz Meiramy have taken place in all regional divisions of "Kedentransservice" JSC.