news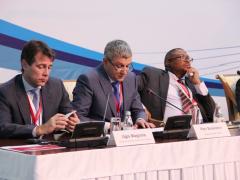 New Silk-way: a global platform for the trade cooperation in Eurasian region
29.05.2015
On the 2nd of May 2015 the III International transport and logistics business forum "New Silk-way" took place in Astana within the 8th Astana economic forum.
President of the "NC "KTZ" JSC, Askar Mamin noted that the volume of trade among major markets on the Eurasian continent will grow 1.5 times according to UNCTAD expert judgments — from 800 billion dollars in 2014 up to 1,2 trillion dollars by 2020.
"Today we provide transport services to our clients from any point of China, Europe, Russia, South Caucasus and countries of the Gulf region to any destination through Kazakhstan.
Currently, we organize a logistic scheme of transportation of goods in/out of India, which pass ports of Mundra, Bandar-e Abbas through Iran, Turkmenistan and Kazakhstan," said A. Mamin. According to him, sourcing of transit traffic flows through Kazakhstan requires an organization of advanced national transport and logistics infrastructure and its integration in the international transportation system.
"The infrastructural development is a core in the new economic policy "Nurly zhol — way to the future" that was initiated by the President N.A. Nazarbayev," noticed A. Mamin.
A reliable railway system was formed that has optimized transport corridors through Kazakhstan. A direct railway route of the "North — South" corridor was opened. An enlargement of Aktay port and construction of the ferry line at the Kuryk port will increase the capacity to 25 million tons of goods on the "ТRACECA" and "North — South" corridors.
One of the innovative logistic solutions on re-orientation of goods from traditional traffic flows is a multimodal transportation based on the "Rail-Air" scheme through Kazakhstan.
According to this system the transportation scheme uses regular railway lines of container trains from China to Kazakhstan and its compatibility in our national airports for air transportation to Europe.
Kazakhstan rapidly develops its road networks and integrates it into Eurasian system of road traffic routes. "Western Europe — Western China" transcontinental highway corridor will reduce the time of goods transportation from China to Europe.
"Ancient Kazakhstan was located on crossroads of the Great Silk Road; therefore, President Nazarbayev set a goal to bring not only the Silk Road back to life, but also a historical role of Kazakhstan as the bridge between East and West, North and South. This idea correlates to the initiative of Xi Jinping, the President of the People's Republic of China, about the development of the Silk Road as an Economic Belt," brought into focus A.Mamin.
The leaders of railway administrations of Latvia, Lithuania, companies DP World, TRACECA, the head of Port of Lianyungan, which spoke at the forum, paid special attention to questions of the Silk Road development, the Trans-Caspian international transport route, the integrated container service between Asia and Europe, roles of business in the improvement of transport and logistics infrastructure.