news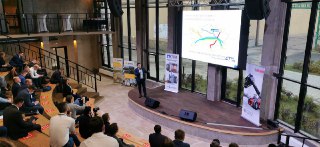 «Kedentransservice» JSC took part in the annual conference #OverContainers, which was held on October 8, 2020 in St. Petersburg, Russia.
08.10.2020
This is a traditional professional platform for leaders of the transport and logistics sector to exchange experience and implemented projects. At the same time, the conference discussed new ideas, recent market trends, and difficulties associated with the global COVID-19 pandemic.
The main idea of the conference was to establish links between leading container transport operators and logistics companies.
Victor Fedotov, General Director of «Kedentransservice» JSC , noted in his speech about the growth of container transit through the territory of Kazakhstan on all transit messages, emphasized the attention of participants on the main transport and logistics services, on the organization of regular container service on the following routes:
China — Altynkol — Moscow hub stations;
Almaty-1 station — China via Altynkol — Khorgos.
The speaker noted that «Kedentransservice» is the largest terminal operator, represented in all regions of Kazakhstan and provides a full range of terminal services. The company actively invites partners and representatives of forwarding companies for cooperation.
Meanwhile, Victor Fedotov shared with the company's plans to launch new container services such as Altynkol-Novosibirsk-Altynkol and Dostyk-Novosibirsk-Dostyk.
We are confident that the participants have received a huge boost from communication with the expert community. And the optimism received at the #OverContainers professional site will eventually find its way into new projects and route launches for transport companies.
The conference was organised by InfraNews and Infra Projects Ltd. We would like to thank the organisers for their cooperation and the opportunity to discuss topical issues in the transport industry.