news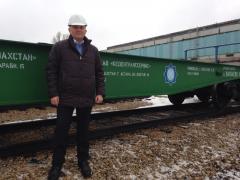 "Kedentransservice" JSC possesses its own rolling equipment so as to provide through transportation
10.04.2014
The transport and logistics company «Kedentransservice»(a joint venture of JSC «NC «Kazakhstan Temir Zholy» and JSC «TransContainer») increases the volume of the fleet of operated platforms for the transportation of goods in containers by purchasing its own rolling stock.
The supplier of rolling stock is the Russian production enterprise JSC «Plant of Metal Structures» (Saratov). Under the terms of the financial leasing agreement, 100 railway 80-foot fitting platforms were transferred to JSC «Kedentransservice».
The new platforms will be used in existing and planned transit cargo transportation as part of container trains between China — Europe and China — Almaty. The lease agreement for railway platforms was concluded with Sberbank Leasing Kazakhstan LLP for 7 years.
As a reminder, the company Kedentransservice started operating rolling stock in 2011. Today, the Kazakh-Russian enterprise manages more than 5,000 railcars.
JSC «Kedentransservice» is the largest service and logistics company of the Republic of Kazakhstan. The company's terminals are located in all regions, major cities of the country and at the border stations Dostyk and Altynkol. The company's shareholders are JSC «Transcontainer» (50%) and JSC «NC «Kazakhstan Temir Zholy» (Kazakhstan Railways, 50%).
The target business model of JSC «Kedentransservice» is a universal integrated logistics company in Kazakhstan and Central Asia. This model involves the provision of a full range of logistics services in the segments of container, bulk, and general cargo, including oversized heavy cargo. The core of the company's business will be forwarding and integrated logistics services in Kazakhstan and Central Asia, as well as operating rolling stock in this territory.