news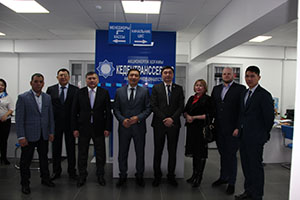 Kedentransservice JSC has opened a Customer Service Center in Almaty
09.03.2017
On March 2, 2017 on the basis of Terminal — 1, located at: Almaty, 57 Northern Ring str., the opening of a Customer Service Center of Kedentransservice JSC in Almaty and Almaty region was held. The opening ceremony was attended by Vice President for Sales Tuleushin Sh.A., director of the branch in Almaty and Almaty region Dosmaganbetov Z.Sh., as well as the management of the Almaty branch of JSC "KTZ — Freight transportation" and the branch of "KTZ express" JSC — "KTZE — Southern".
The Customer Service Center (hereinafter referred to as the "CCS") is located in a comfortable office equipped with modern equipment and is focused on the principle of "one window".
The opening of the new CCS will improve the level of customer service quality and will shorten the time for their servicing. For the convenience of clients there are access roads, temporary storage warehouses, container handling technology (Kalmar), loading equipment, etc., which is necessary to provide the full range of services provided by the Company. In total, the CCS renders services, including an exclusive transport and logistics service for sending / receiving consolidated cargoes by the high-speed train of the "shuttle transportation" system.
In addition, the management of Kedentransservice JSC has paid special attention to creating the necessary conditions for receiving services by people with disabilities, for whom in the CCS separate places for payment of services have been allocated and ramps have been installed.